Golf
Barooga is situated in the heart of the best Murray River golf courses with over 200 holes of golf within a 60 minute drive. The Rivergums motor inn team can include any of these courses in a golf package for you, please give us a call on 03 5873 4575 to arrange a personalized package. .  
Cobram Barooga Golf Course - 36 holes right here in town
Tocumwal Golf Course - 36 holes is just a 15-minute drive
Yarrawonga & Border Golf Course - 45 holes - 25 minute drive
Black Bull Golf Course Yarrawonga - 18 hole composite - 25 minute drive
Corowa Golf Course - 27 holes and is a lovely 55 minute drive
Shepparton Golf Course - 18 holes approximately a 50 minute drive
Rich River Golf Course - 36 holes and is 60 minutes away
Cobram Barooga Golf Club
Cobram Barooga is one of Australia's finest golf clubs it is located on the Victoria-NSW border and has two championship-standard golf courses. The Old Course is not long by modern standards, however the clever design and narrow fairways provide a good test of skill to any player. The West Course has wider fairways and larger greens, with more slopes than the old course. The West Course is also slightly longer than the Old Course. Apart from two great courses the club has a practice range, golf nets and 2 practice putting greens. The Club house offers cafe & bistro meals, music, TAB facilities, raffles, bingo and poker machines. Courtesy bus service is also available. The club house is approx. 1 km from us here at the Rivergums motor inn.
(03) 5873 4304 Club House
(03) 5873 4372 Golf Shop
Website: www.cbgc.com.au


Tocumwal Golf Club
Tocumwal Golf Club consists of two immaculately presented Championship courses with excellent quick greens and gently undulating fairways of wintergreen couch. The Presidents Course with deeper bunkering is heavily treed. Strategic bunkers and more water in play on the links style Captains Course. A major drawcard is the fact the holes can be arranged into another four composite courses, therefore the golfer can play up to six different courses. Come and experience this exceptional sporting venue on the Murray River.
Phone: (03) 5874 9111
Website: www.tocumwalgolf.com.au
Yarrawonga Mulwala Golf Club Resort
As Australia's largest public access golf resort and rated a 'top 100', the Yarrawonga Mulwala Golf Club Resort offers the keen golfer or the casual player three well-designed, well-manicured, immaculate courses each with their own special appeal set amongst a beautiful natural landscape. The resort boasts two 18 holes courses, the Murray Course and the Lake Course, and the 9 hole Executive Course. Visitors are welcome to play in regular competitions and events. Men's competitions are held on Tuesday, Thursday, Saturday and Sunday. Ladies competitions are on Wednesday, Saturday and Sunday.
Phone: (03) 5744 1911
Pro Shop: (03) 5744 3983
Website: www.yarragolf.com.au
Black Bull Golf Club Yarrawonga
With the Black Bull 18 Hole composite course now open for play, golfers visiting this part of the Murray, will be able to enjoy the efforts put in by course Architects Peter Thomson, Ross Perrett and their design team.
These exquisitely landscaped holes which are wrapped around the waters of Lake Mulwala have been designed to excite the imagination and test players of all levels, from the Pro to the novice alike.
Black Bull golf club is a 25 minute drive from the Rivergums motor inn it is located on the banks of Lake Mulwala and the Murray River just through the other side of Yarrawonga.
Phone: 03 5744 0044
Website: www.blackbullgc.com.au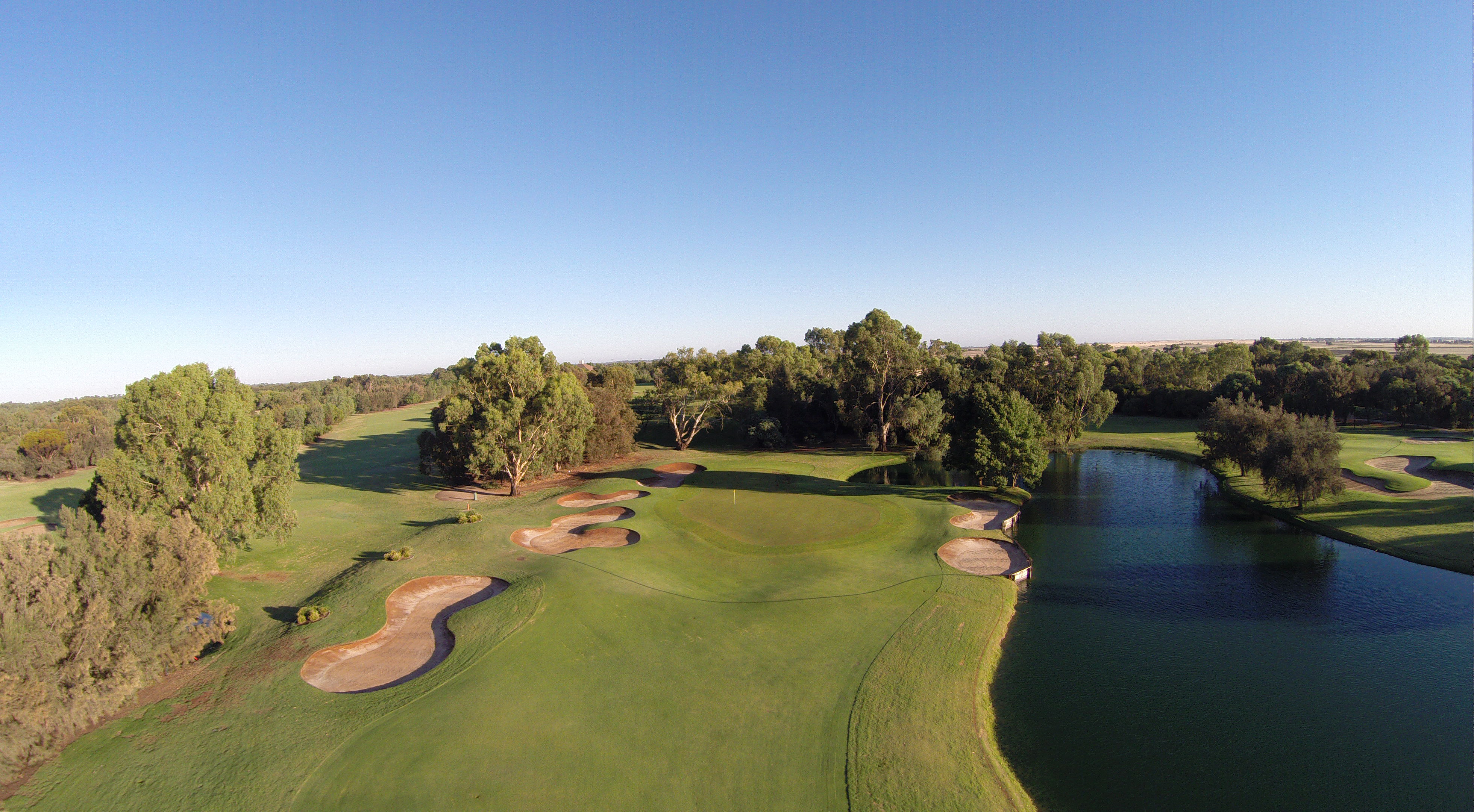 Corowa Golf Club
Corowa golf club is just metres away from the mighty Murray River and boasts magnificent scenery, the course is a 27 hole championship-rated golf course offering challenges to all levels of golfing ability. The original course, one of the most charming to play in Australia, was designed by Al Howard and established in 1955. It is nestled amongst river gums along the course of the Murray River and offers golfers of all abilities a challenging and rewarding round that only a course of this age can. The front 9 holes were established in 1980, the front 9 fairways are mostly long and open, unlike the old course, offering the variety some golfers may prefer. The course itself is rated in the top 100 public-access golf courses in the country.
Phone: (02) 6033 1466
Website: www.corowagolf.com.au
Shepparton Golf Club
The Shepparton Golf Club is situated five kilometres from the city centre of Shepparton, It is established in a peaceful rural setting and nestled along the majestic banks of the Goulburn River. Visitors are enticed time and time again by the beautiful and relaxing country atmosphere on offer.
The fairways are uncrowded and well tendered, golfing groups are always welcome, as they offer many facilities in catering to any specific requirements, should there be any. The Shepparton Golf Club is very proud of it's reputation in providing hospitality and catering services for all occasions. Course maintenance and standards are exemplary.
Phone: (03) 5821 2717
Website: www.sheppartongolf.net.au
Rich River Golf Club Resort
Rich River Golf Club offers some of the best golf in the country!
Opened in 1979 the Par 72 West course has traditional tree lined fairways with small tricky greens and takes the serious golfer on a 6183m journey. The par 72 East Course was redesigned by Peter Thompson in 1998 and features large greens, wide fairways, Thompson signature bunkers and covers 6131m. Both courses provide outstanding challenges for all players.
Phone: (03) 5481 3372
Website: www.richriver.com.au