Other Attractions
Things to see
This is just a small sample of places to see. 
Barooga Botanical Gardens
The Barooga Botanical Gardens are delightful, well-established gardens. Maintained by the local community, it is a great place to spend a few hours enjoying the beautiful layout. Take a stroll through the gardens - all the trees and shrubs are well identified and facilities include covered playground, public toilets, shelter and free barbeque facilities.
Opening Hours: Daily 
Address: 20 Nangunia Street, Barooga
Phone: 03 5873 4486
Website: www.baroogabotanicalgardens.com.au


The Big Strawberry
Treat yourself to fresh strawberries, homemade ice cream, strawberry pancakes or some fresh jam with a devonshire tea. Open daily 8.00am till 5.00pm. Located 11 km from Cobram on the Koonoomoo Rd, Koonoomoo, be sure to check out the large range of conserves and year round supply of fresh strawberries on sale.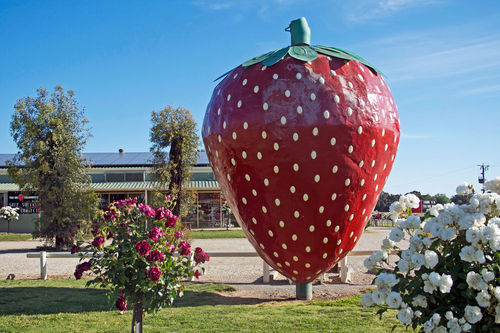 Open 7 days a week 8.00am to 5.00pm
Phone: (03) 5871 1300
Email: sales@thebigstrawberry.com.au
Website: www.thebigstrawberry.com.au


Kingfisher Cruises
Eco-tourism at its best. Explore the Murray River, Redgum forest and waterways by boat. You will experience the timeless natural beauty and peace when gliding along the "Barmah Choke" on the Murray River, an area 25,000 years in the making. Your tour departs from the Barmah Lakes day visitors area. 
Bookings are essential.
Operating: Monday, Wednesday, Thursday, Saturday & Sunday.
Phone: (03) 5855 2855
Email: info@kingfishercruises.com.au
Website: www.kingfishercruises.com.au


Rich Glen Olive Farm
Established in 1997 by the Vodusek family, Rich Glen Estate is one of the largest family owned and operated olive groves in Australia. Visitors to Rich Glen can enjoy an extensive sampling of over 60 multi award winning products these include gourmet salad dressings, flavoured oils and olives, dukkahs, meat rubs, jam, chutney and herbal teas. They also produce a skin care range. You can enjoy a light lunch and or a coffee in the 100 year old homestead, then look through the memorabilia gallery. 
Opening Hours: 9.00am to 4.00pm Mon to Fri, 10.00am to 4.00pm Sat & Sun734 Murray Valley Highway, Yarrawonga 
Phone : 03 5743 3776
Email info@richglenoliveoil.com
Website: www.richglenoliveoil.com


Cactus Country
The cactus and succulent collection has plants up to 50 years old and has become a favourite attraction not just for the avid collector but for the many tourists that visit the area. Once you're out amongst the plants you really feel like you're in another country. There are approximately 4,000 different species from North America and Mexico, South America and Africa.
Cactus Country is a 10 minute drive west along the Murray Valley Highway to Strathmerton
Opening Hours: Daily 9.00 am to 5.00 pm
Closed Christmas Day, New Years Day & Boxing Day
Address: 4986 Murray Valley Highway, Strathmerton
Phone: 03 5874 5271
Email: julie@cactuscountry.com.au
Website: www.cactuscountry.com.au


Thompsons Beach
The region is famous for its numerous stretches of pristine, sandy beaches and Thompson's Beach at Cobram does not disappoint. A few minutes drive from the centre of town, it is located in an idyllic setting and is a lovely spot to soak up the tranquility of the Murray River. Shaded by the magnificent, towering river red gums and floodlit in the evenings, it is the perfect spot to relax or for a family get-together. Enjoy free electric BBQ's, a playground area for children, swimming, walking, beach cricket, volleyball, canoeing and fishing. 


Quinn Island
Quinn Island Wetlands Sanctuary at Cobram is a forty hectare island that is formed by a bend in the Murray River, which has been cut off by a small anabranch called Scotts Creek. A bridge was built to the island and can be accessed from the small parking area approximately 100 metres to the west of the Quinn Island access point. A well formed trail winds its way through River Red Gum and Silver Wattle Forest, including access to a great bird hide that overlooks a billabong. A variety of native birds and animals can be spotted on Quinn Island, and when it is wet, the island is a haven for water birds.

Address: River Road, Cobram


Ulupna Island
The cool summer oasis of Ulupna Island is home to a vast number of native wildlife. An early morning or late afternoon visit to this region will not disappoint, with sightings of kangaroos and koalas virtually guaranteed.
The island also contains many sandy river beaches, making it an ideal location for swimming, camping and picnics. Many bushwalking tracks allow you to fully enjoy the majestic scenery, and over 180 plan and 120 bird species have been identified on the island.
Ulupna Island is bounded by the Murray River and Ulupna Creek and can be accessed from the Murray Valley Highway on the western side of Strathmerton.
Address: Ulupna Bridge Road, Strathmerton


Boosey Creek Cheese
Offering several varieties of cheese, handmade on farm with milk from contented Friesian cows , They offer free cheese tastings, you can pat the calves, watch the cows come home, and see them being milked. Boosey creek cheese is located at 743 Grinter Road, Boosey.

Open 10.00am-5.00pm Fri. Sat. Sun. & Victorian school holidays.
Phone: (03) 5748 4374


Tungamah Heritage Walk
Set on the Boosey Creek, Tungamah is named after the local Aboriginal word for 'brush turkey'.The Tungamah Heritage Walk takes you past a number of historic buildings in the Tungamah township.
Buildings and sites on the walk, include the Tungamah Store, Peter Peters' Store, Tungamah Shire Offices, Victoria Hotel, Tungamah Hotel, Tungamah Garage, Tungamah Timber Yards, National Bank of Australasia, Pharmacy/Bakery, Post Office, Court House and Fire Station (built after the Pub burnt down).
Some of these buildings date back to the early 1880s. Take an hour or two to wander around the historic streets of Tungamah.
Red Gum Retreat Wildlife Tours
Wildlife tours conducted in the red gum forests along the Murray River. Koalas, kangaroos, and Australia's largest eagle nest are the main features of this two-hour bush tour. Minimum numbers apply so please call Peter on Phone: (03) 5874 5531

Location: Ulupna Island/Strathmerton


Aintree Farm- Almonds & Apiary
Sample their range of all things almond, dukkahs, nougats, pestos, roasted and flavoured almonds, meuslis, snack packs, oils and soaps. Also their honey & olive oil produce, eg roasted almonds in cold spun honey - delicious on a soft cheese...
Location: 56 Ferris Street, Bearii
Open 7 days a year- best by appointment
Phone: (03)5868 2203
There are more things to see and do in the Cobram Barooga district, if you require more information please check out the Cobram Barooga Tourism Website.
Website: www.cobrambarooga.com.au


Cobba Paddle Boat Cruises
Open Wednesday to Sunday
Cruise Times are
10am - 11am
11.30am-1pm
2pm-3pm
3.30pm-5pm
Tickets available on the boat, (Thompson Beach, Cobram), online or at the Tourist Information Centre.
Phone: 0457 033 217 Website: www.cobba.net.au